Evidence Video is able to provide Additional Video Services that support our belief that 'Seeing is Believing' in the courtroom.
Our video services can help reinforce or refute testimony of an expert, or help bring the scene directly to the jury or mediators. Our experienced team can provide multiple video services to enhance your case.
Here are some examples of additional video services that could be used as evidence in your case:
video of independent medical exam that can help reinforce or refute expert testimony
expert testimony combined with enhanced graphics that help visualize complicated explanations
location inspections at the scene of an accident
Drone video to provide an aerial view of a construction or other accident scene
Go-Pro video that helps jurors visualize road or ski hill dynamics that might have contributed to an accident
up-close examination of a scene or manufacturing process that can enhance the testimony of an expert
in-depth video from the dismantling of a machine involved in death or physical injury accidents.
If you believe supporting evidence can best be demonstrated visually, our creative team of highly-trained videographers can help you bring that scene to the courtroom or the mediation room.
In some cases video is the only tool to help lawyers understand what a plaintiff is seeing before an accident. Still photos can't do this, but live action video as a person is moving can help to give perspective of their point of view.
In a recent case, one lawyer wanted to videotape what a plaintiff saw skiing down a ski slope immediately before they became seriously injured.
In another case, a woman was seriously injured on a lakefront bike path. Interesting perspectives you ordinarily would not be able to capture and demonstrate live for a case.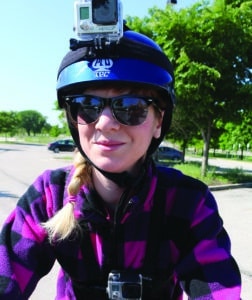 The "GoPro®" camera mounted into a helmet was the only way to go. A digital camera mounted at forehead level helped to show the approximate range.
Then with a regular camera we taped a crew member coming towards us at the point of the accident. Both times the video helped the plaintiff lawyers as demonstrative evidence.
Talk to Evidence Video about the results you can achieve by visually explaining an accident through demonstration and videotape.